SHINDENFUDO-RYU HAPPOBIKEN (part 1) with MATS HJELM (Keiko#12)
This years theme was Shindenfudo-ryu Dakentaijutsu Happobiken, Taijutsu & Sword – (Bujinkan sword basics & advanced).
The theme of this DVD is understanding the natural body movement in fighting. Included on this video is taijutsu techniques (unarmed fighting). The basic forms, the ura-waza and henka is taught. Also some simple techniques and examples on how to use the long sword in the school.
Techniques covered on this DVD is…
DAKENTAIJUTSU HAPPOBIKEN
This art (jutsu) consists of locks, entanglements, strangling, striking and kicking. The strikes is done in such a way that it is difficult for the opponent to see them coming. When the opponent grabs you, you must always have one arm free.
There are no kamae (and there are many kamae). One imagine a kamae mentally inside but does not show it physically on the outside. There is a Budo saying: "Show your outer weakness, but maintain your inner strength."
天の型 TEN NO KATA (first level)
1. 日撃 NICHIGEKI
2. 月肝 GEKKAN
3. 風靡 FÛBI
4. 雨龍 URYÛ
5. 雲雀 UNJAKU
6. 雪やく SETSUYAKU
7. 霧散 MUSAN
8. 霞雷 KARAI
地の型 CHI NO KATA (second level)
1. 理拳 RIKEN
2. 心拳 SHINKEN
3. 雷拳 RAIKEN
秘券一瞬 BIKEN ISSHUN (Sword techniques)
1. 一本目 FIRST TECH
2. 二本目 SECOND TECH
3. 三本目 THIRD TECH
Including various applications to different situations (henka).
Note: The instructions was in English.
Recorded: Recorded in Eskilstuna February 2006 and Stockholm March 2006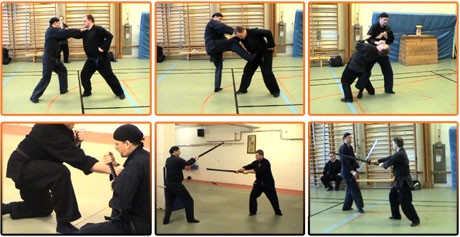 See also part 2 after Mats second training trip to Japan this year.