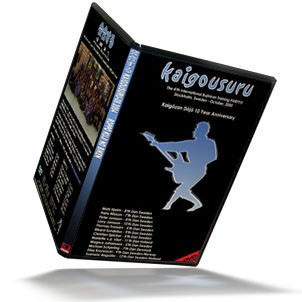 90 minutes, 600 Mb for
$14.99
Buy the full DVD, click here!
Kaigousuru 4 – the fourth International Bujinkan Training Party with some of the best instructors in Sweden and Scandinavia.
– Sveneric Bogsäter
– Mariette v.d Vliet
– Larry Jonsson
– Elias Krzywacki
– Rikard Sundelius
– Peter Jonsson
– Mats Hjelm
– Michael Schjerling
– Hans Nilsson
– Thomas Franzen
– Christian Spicker
– Magnus Johansson.
The theme of this year was Koto-ryu. This was the 10 year anniversary of Kaigozan dojo. A lot of instructors where invited, and a lot of people came to play and celebrate. This is a very good tape for people that haven't seen so many instructors move. All the instructors move and teach different, you will get a lot of variety, and a lot of good ideas to play with.
Recorded in Stockholm, Sweden October 2000
Sample clip from the video
About the download
Click here for more information about our download files and how it works!