To see all the movies, open the menu Downloads above!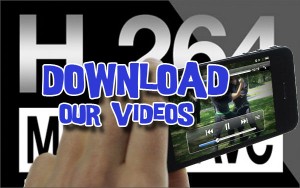 More and more people are going away from DVD's and store their videos on their computer and mobile devices, this is the future.
We upload and store all our download videos on Payloadz. You can click here or "Downloads" above in the menu to see all our available videos with information, pictures and sample videos (from YouTube).
DVD or DOWNLOAD
Most of the DVD's is also available as Download but not all, click here to see a comparison.
Note this list is updated manually, so there might be some missing. Also not all DVD's will be available for download, for example 5-10% of the DVD's is not ours (we don't own the rights). We are working to get all our own productions available for download ASAP. Also some Downloads is not available as DVD (they probably never be, that's how it is).
Click on the Download links above for a list of all the downloads. All the DVD's is in the "Store" (link to the right).
About our Downloads
We are releasing older videos when we have time, and some new videos that is not available on DVD. Putting all our videos available for download is also a greater risk for pirate copying, so we are not rushing to get all our videos available for download. If you feel guilty, you could donate to us with PayPal.
About the format
The videos is h.264 standard format with the extension .m4v (if your system doesn't recognize the file, try rename it to filename.mp4, it is the same type of file the extension is like the paper cover of the packet), and the resolution is from 480 x 272 pixels to 720 x 480 pixels, filesize varies.
The video have chapters just like DVD's. So if your device video player supports it, you can skip through the chapters. We always edit our video's and add chapters where it is appropriate in the film.
The download file is archived with Zip, so you need to unZip it first (if you don't know how, g00g1e "unzip").
Apple devices:  Just add the video to iTunes and sync it to your favorite device (iPhone, iPod or iPad), stream it to your Apple TV or watch it on your computer. There is no need to convert the file, it will work flawlessly. You can not normaly download directly to your iPad because it does not allow zip files to be downloaded. Maybe if you have an ftp program to download with and unzip (I have not tested it myself but it may work, or not?). It is best to download with your computer and then sync it to your device.
Windows: Add it to iTunes and sync it to your Apple device. Or watch it on the computer with a media player that supports h.264, we recommend VLC Media Player. I guess there are much more options to, g00g1e it!
Linux: If you use Linux I don't need to tell you how to do it ;-).
NOTE: The video files have the .m4v extension, it is the same as .mp4! So if you have problems with your video player, just rename the extension to .mp4 and it will work (tested on Windows 7). 
* The old TV resolution was 4:3 and 352×288 pixels for PAL (European system), NTSC (USA & Japan) was lower but more frames per second.