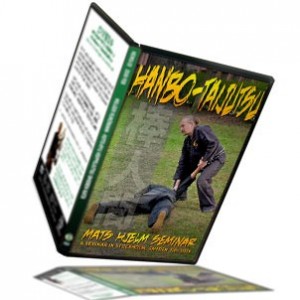 This video contains Taijutsu techniques with variations including the Hanbo (short staff). Also Hanbojutsu basics with Taijutsu applications. You can see how similar the Taijutsu techniques can be done with a weapon, and how easy it is to do a weapon technique without a weapon. This seminar was filmed shortly after Mats Hjelm's second Japan trip this year training with Soke and the Shihan.
This movie is available on DVD (click here!) or available as download, click button below.
Download specs
Title: Keiko27 – Mats Hjelm – Taijutsu and Hanbojutsu
Instructors: Mats Hjelm Theme: Taijutsu and Hanbojutsu (Japan kanjou)
Recorded: Recorded in Stockholm June 27'th 2009
Language: The instruction is in Swedish!
Format: h.264 (480 × 272), AAC. 70 minutes.
About the instructor
Mats Hjelm started training in Bujinkan for the first time around 1983, but it wasn't until 1986 he had the opportunity to start training more seriously under a Shidôshi. He attends around 20 seminars, go to Japan 2-3 times every year. Since he started training he never had a training break. He takes his budo training very seriously! If you want to sponsor a seminar or course, please don't hesitate to contact him. For more information see Mats web site http://www.kesshi.com
Pictures from the seminar
About the download
Click here for more information about our download files and how it works!