BOJUTSU KEIKO SABAKI KATA Vol.1 with MATS HJELM (Shugyou#06).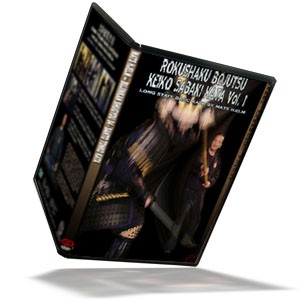 Or buy them separately
Kukishin-ryû Rokushaku Bôjutsu – Keiko Sabaki Kata Vol.1.
Recorded in Eskilstuna, Sweden – April 2005
This is the second seminar about the Rokushaku Bôjutsu (six foot staff fighting) and covers the first 10 basic waza from Kukishin-ryû Keiko Sabaki Kata. First the basics is taught, and then the technique is brought alive with realistic examples and responses from the defending opponent. The material from the seminar is 80 minutes and 10 techniques.
Techniques covered in depth on this video is the first ten from the Sabaki Kata
BOJUTSU KEIKO SABAKI KATA
1 GOHOU
2 URA GOHOU
3 SASHI AI
4 FUNABARI
5 CHOU NO ISSOKU
6 URA NO HITO ASHI
7 SUSO OTOSHI
8 URA SUSO OTOSHI
9 IPPON SUGI
10 TAKI OTOSHI
The remaining 15 techniques is scheduled to be recorded this summer 2013…
Note: The instructions is in Swedish with sub titles in English.
Note2: There is no manual with this video like previously in the Shugyou series.
Note3: We also included a 20 minutes bonus material from a training with Yoroi (samurai armor). It includes ukemi with yoroi, Bojutsu against the Yoroi, and unarmed fighting against the Yoroi. As download you can buy just this one if you want.
Trailer
About the instructor
Mats Hjelm started training in Bujinkan for the first time around 1983, but it wasn't until 1986 he had the opportunity to start training more seriously under a Shidôshi. He attends around 20 seminars, go to Japan 2-3 times every year. Since he started training he never had a training break. He takes his budo training very seriously! If you want to sponsor a seminar or course, please don't hesitate to contact him. For more information see his web site www.kesshi.com Note!