SHINDENFUDO-RYU with DARREN HORVATH, HAPPOBIKEN DAKENTAIJUTSU (Keiko#14)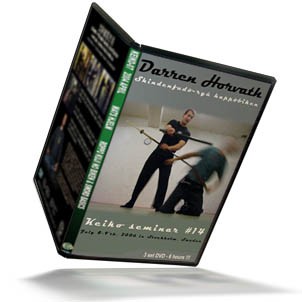 SHINDENFUDO-RYU with DARREN HORVATH, HAPPOBIKEN DAKENTAIJUTSU (Keiko#14)
380 minutes, 4.6 Gb for
$34.99
(H.264, 480p)
This years theme was Shindenfudo-ryu Dakentaijutsu Happobiken, Taijutsu & Sword – (Bujinkan sword basics & advanced).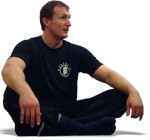 The theme of this DVD is understanding the natural body movement in fighting. Darren taught many techniques from Shindenfudo-ryu and the feelings of Iken-hassô, Biken-isshun, and much much more.
There is three video's in this set…
You can buy the download files separately or all three for a good discount.
DVD1 Ten no kata (160 min, 1.98 Gb)
Buy this for $19.99
DVD2 Shizenshigoku no kata (130 min, 1.57 Gb)
Buy this for $19.99
DVD3 Bikenjutsu + Naginata + Q& A (90 min, 1.06Gb)
Buy this for $14.99
Or buy all three for $34.99 and save $19.98
Recorded: Recorded in Stockholm July 2006


DAKEN TAIJUTSU
This art (jutsu) consists of locks, entanglements, strangling, striking and kicking. The strikes is done in such a way that it is difficult for the opponent to see them coming. When the opponent grabs you, you must always have one arm free.
There are no kamae (and there are many kamae). One imagine a kamae mentally inside but does not show it physically on the outside. There is a Budo saying: "Show your outer weakness, but maintain your inner strength."

From Mats Hjelm's website kesshi.com