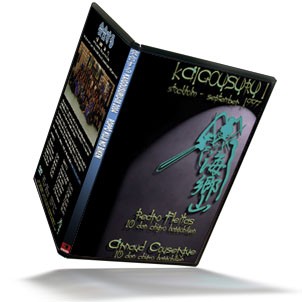 Kaigousuru 1 – the first International Bujinkan Training Party with Pedro Fleitas & Arnaud Cousergue in Sweden.
The theme was Jo Jutsu and Taijutsu. They taught many Jo Jutsu techniques and henka from Kukishin-ryuu Jo jutsu. They also taught Taijutsu, unarmed fighting techniques.
Recorded in Stockholm, Sweden September 1997
72 minutes, 480 Mb for
$14.99
Buy the full VCD, click here!
Sample clip from the video
About the instructors
Hehe, both Pedro and Arnaud are famous Shihan in the Bujinkan. See their own web sites for more information about them…
– Arnaud Cousergue web site
– Pedro Fleitas web site
About the download
Click here for more information about our download files and how it works!