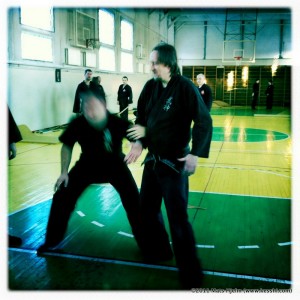 Sanshin no kata and Kihon-happo is the most fundamental and important techniques in the Bujinkan Dojo. Five blocking techniques and five counter strikes was taught; the basic form and also jissen feeling.

This video is from a seminar in Riga, Latvia in February 26th 2011. This is day one of two. The first day the theme was Sanshin no kata and the second day Juttejutsu.

On this video Mats was teaching the Sanshin no kata. He taught the basics, and more self defence and real responses. Without weapons and with weapons. There is five different ways of receiving an attack, and five different ways of counter attacking.
三心の型 SANSHIN NO KATA
地 CHI (earth)
水 SUI (water)
火 KA (fire)
風 FŪ (wind)
空 KŪ (void)
The techniques is called…
The video is 45 minutes, and 640 x 360 pixels, h.264 and AAC.
Recorded in Riga, Latvia February 2011
Sample clip from the video
For a longer article about this seminar, see Mats blog.
About the download
Click here for more information about our download files and how it works!