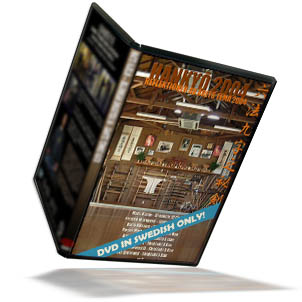 Reflections of this years Bujinkan theme, Roppo Kuji no Biken. Many people went to Japan this year and they all came together to share on this seminar.
The instructors was Mats Hjelm, Fredrik Markgren, Hans Nilsson, Roger Mattsson, Arne Elmlund, Petter Swedin, Kristoffer Metsälä, Ola Grönlund and more. Något av det som lärdes ut var falltekniker med eller utan rustning, budo no kiso, daisho jûtaijutsu, tachi waza, yoroi kumi uchi, taijutsu m.m.
Instructions are in SWEDISH!
Recorded in Stockholm, Sweden December 2004
Note: Some of the instructors spoke Swedish, and others English.
This movie is available on DVD (click here!) or available as download, click button below.
Instructions are in SWEDISH!