KUKISHIN-RYU BO-JUTSU with MATS HJELM was filmed at the Bujinkan Kaigozan Dojo during the summer of 2016 and 2017. The theme was Kukishin-ryu Bo-jutsu.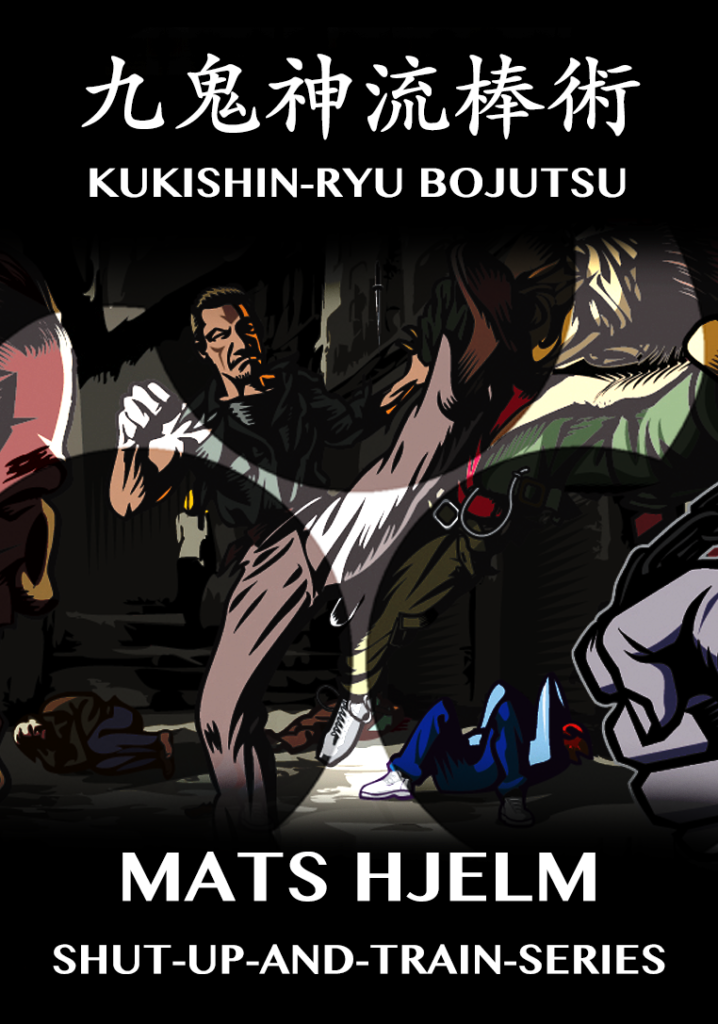 All 29 Kukishin-ryu Bo-jutsu techniques in HD quality, total playing time is 40 minutes. 2.14 Gb (H.264, AAC, 1280x720p)
There is no verbal instructions on this film. Each technique is demonstrated several times from all angles. For more information about this ryu-ha click here! Please notice there is several sub-pages to this page with more information.
六尺棒術 ROKUSHAKU BŌ JUTSU
The bōjutsu of Kukishin Ryū is best described as a method used to defeat/trick wielders of other weapons. It has special striking techniques that allow the Bō to feign quickly and re-direct its aim; a special method of "twirling" (Bofurigata) designed to confuse opponents and keep them at bay; and thrusting techniques that correlate with throwing the staff as a projectile (nagebō). Aspects of the Bōjutsu are gleaned from two other weapons within the school: naginata and the spear (from Wikipedia).
There is five levels in Kukishin-ryu Rokushaku Bōjutsu.
1. Bōjutsu Kihon Kata
2. Bōjutsu Keiko Sabaki Kata
3. Bōjutsu Shoden Kata
4. Bōjutsu Chūden Kata
5. Bōjutsu Ōkuden Kata
We already made a video of the first two levels a long time ago (see here).
Covered in this video is
初傳型 SHODEN KATA
1. 中段杆打 CHŪDAN KANGI
2. 下段杆打 GEDAN KANGI
3. 詒変杆打 IHEN KANGI
4. 上段護技 JŌDAN GŌGI
5. 一文字護技 ICHIMONJI GŌGI
6. 平一文字護技 HIRAICHIMONJI GŌGI
7. 一文字掃く技 ICHIMONJI HAKUGI
8. 青眼掃く技 SEIGAN HAKUGI
9. 天地人こう技 TENCHIJIN HAKUGI
中傳型 CHŪDEN KATA
1. 上段挨技 JŌDAN AIGI
2. 下段挨技 GEDAN AIGI
3. 平一文字挨技 HIRAICHIMONJI AIGI
4. 中段じゅ技 CHŪDAN JŪGI
5. 一文字じゅ技 ICHIMONJI JŪGI
6. 詥変ちゅう技 IHEN JŪGI
7. 青眼摧技 SEIGAN SAIGI
8. 天地人摧技 TENCHIJIN SAIGI
9. 一文字摧技 ICHIMONJI SAIGI
奥傳 OKUDEN KATA
1. 上段搶技 JŌDAN SŌGI
2. 下段搶技 GEDAN SŌGI
3. 平一文字搶技 HIRAICHIMONJI SŌGI
4. 中段格技 CHŪDAN KAKUGI
5. 一文字格技 ICHIMONJI KAKUGI
6. 詥変格技 IHEN KAKUGI
7. 青眼拒技 SEIGAN YAKUGI
8. 天地人拒技 TENCHIJIN YAKUGI
9. 撆倒拒技 HEITO YAKUGI
Title: Kukishin-ryu Bo-jutsu Shoden, Chuden, Okuden kata with Mats Hjelm
Instructors: Mats Hjelm
Theme: Kukishin-ryu Rokushaku Bo-jutsu
Recorded: Recorded in Kaigozan Dojo, Stockholm Summer 2016 & 2017
Kind: Apple MPEG-4 movie
Size: 1 075 472 723 bytes (1,08 GB on disk)
Dimensions: 1280×720
Codecs: H.264, AAC, Photo – JPEG, QuickTime Text
Duration: 40 min