TOGAKURE-RYU NINPO-TAIJUTSU with LUBOS POKORNY (Keiko#22). Sponsored by Bujinkan Kaigozan Dojo. Recorded in Stockholm May 2008.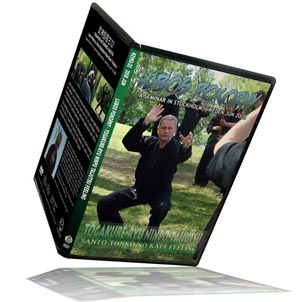 TOGAKURE-RYU NINPO-TAIJUTSU with LUBOS POKORNY
125 minutes, 1.26 Gb for
$19.99
(h.264 M4V/MP4 400p format)
Lubos had spent 3 months training and teaching in Japan right before he came for this seminar.
On this video he covers the first six techniques from Togakure-ryu Santo Tonko no Kata. And many different applications with different weapons and multiple opponents.
The first three techniques is situations where you is grabbed by the arm or by the neck. You release yourself, take him to the ground. Then you bind him and flee.
The next three techniques is Muto-dori. Someone attacking you with a sword. You unarm him by striking. Then you blind him and flee.
The training was relaxed and fun. The feeling was just as the trainings in Honbu dojo in Japan. It was a beautiful weekend and the training was outside.
The instructions is in English. The sound is very good as we had a microphone on Lubos.

About the instructor
Lubos Pokorny (Shihan 15th Dan Happo Biken) is a student of Dr. Masaaki Hatsumi, the 34th Grandmaster of Togakure Ryu Ninjutsu. He has traveled around the world to take part in Hatsumi Sensei's training events. Where he represented the Czech Republic. Beginning his training in 1991, he is the first Czech student of the Bujinkan. Lubos also founded Bujinkan Czech Dojo.
Lubos usually stays in Japan 4-5 months per year. Training and teaching in the Hombu Dojo.
See his web site… http://www.lubospokorny.info/