BIKENJUTSU with MATS HJELM (Keiko#23). Sponsored by Bujinkan Kaigozan Dojo. Recorded in Stockholm June 2008.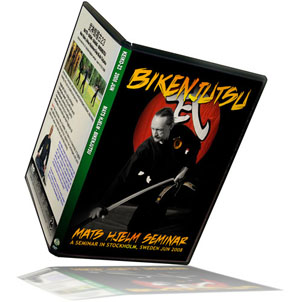 BIKENJUTSU with MATS HJELM
90 minutes, 883 Mb for

$19.99
(h.264 M4V/MP4 400p format)
And 4 page transcript (in English)
This movie deals with Battojutsu (quick drawing the sword). Ukemi (breakfalling with a sword). Sword Kamae, and Sword techniques.
The video includes many basics and advanced techniques. Plus training drills and more.
– Happo-giri, basic cutting techniques
– Taihenjutsu ukemi, rolling with the sword
– Batto/Iainuki, drawing the sword quickly
– Kamae, body positioning and angling
– Bikenjutsu, sword techniques from Togakure-ryu
Instructions is in Swedish. The demonstrations is very visible and clear to understand. We included a 4 page transcript, comments and descriptions in English.
About the instructor
Mats Hjelm started training in Bujinkan for the first time around 1983. In 1986 he moved to Stockholm and started training with a real Shidōshi. He met Hatsumi Sōke for the first time in Stockholm 1988. He attended around 20 seminars with Sōke and travelled to Japan 50 times. Mats takes his budo training very seriously, he never really had a longer break from training!
For more information see his web site http://kesshi.com